Cat. S (Deck 1): 2 beds w/ extra bed outside cabin; portholes, 14.5 m2
Cat. A (Deck 1): 2 beds outside cabin; picture window, 14.5 m2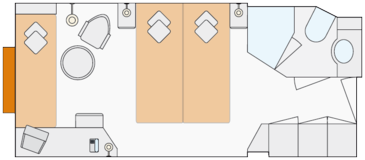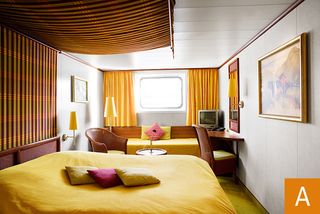 Cat. B (Deck 3): 2 beds outside cabin, panoramic window, 14.5 m2
Cat. C (Deck 2): 2 beds outside cabin, French balcony, 14.5 m2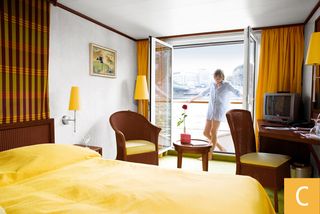 Amenities on board the MS A-Rosa Riva:
Sun Deck
On board the A-Rosa Riva you will find an extensive and well-equipped Sun Deck, featuring both shaded and open areas, a bar, shuffleboard, putting green and a whirlpool. Relax on a sun lounger and enjoy a drink as you take in the stunning Rhine views. On occassion you can enjoy a meal prepared on deck by the chefs from the open air cooking station.
Restaurant and Bar
Sample some delicious cuisine in the A-Rosa Riva's main restaurant. Full Board is included on all cruises and each day, the chef will plan a variety of culinary treats, for example a seafood barbecue out on deck, or display cooking at the buffet. Meals feature Mediterranean finger food, regional and traditional dishes, grilled meat and fish and there is also a selection of light, healthy dishes including salads, fruit and soups.
The A-Rosa Riva boasts a large lounge and bar area, complete with dancefloor. Relax and take in the stunning views by day. In the evening dress up and enjoy the lively entertainment as you chat to new friends.
Spa
Enjoy utter relaxation in the onboard spa, which features a stunning outside area. Facilities include a sauna and a steam room, with massage and beauty treatments available.
Gym /Fitness Facilities
The ship has its own fitness room, equipped with cardiovascular equipment. The selection of excursions available will also generally include some optional cycling tours and possibly nordic walking, so keeping fit on board is both easy and enjoyable.